Cave shrines at Mahabalipuram, Tamil Nadu:
Deviating from Shiva, Vishnu is depicted in a limited set of forms across Mahabalipuram. Well to think that shiva's somaskanda panel is all we get to see apart from Kiratarjuniya panel, vishnu cult definitely had more to show for it!
Yet its interesting to note that garuda, Vishnu's vahana is not seen anywhere. Here, Vishnu reclining on ananta is one of the most exploited concepts at Mahabalipuram. In this particular panel, he is seen reclining with Madhu and Kaitaba, two demons on the mode of silent attack .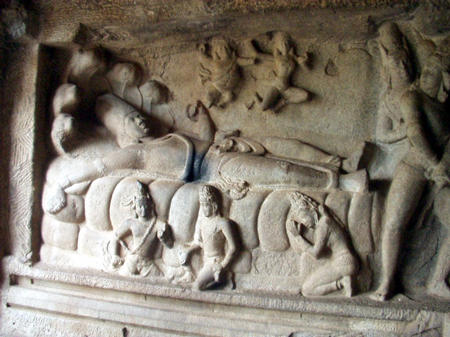 A very relaxed Vishnu is sculpted lying on ananta, five hooded with attendants. Brahma is not there but is replaced by flying celetials. The beauty of these panels is that its represented not just in art but in dance as well. These stories have been depicted in art, dance and literature. All the forms of expression for a concept, whose subtle meaning still remains a question! What aspect of the subtle reality were they trying to tell us, its something i still fail to realize.