Kalahasti, 43 kms from Thirupati: Abode of Shiva


The Lord has strange ways of displaying his presence, here he does it with wind. I will not go into the depths of what Kalahasti is about for i didnt completely understand it to my own satisfaction. I used to believe it was a Linga I saw back in there, now it has additions when I went up close. A spider, an elephant and a snake make up the Linga.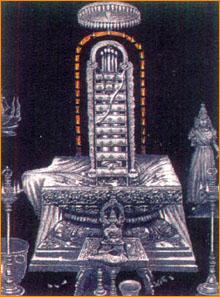 View Location Map of Vayu Linga at Kalahasti



There is a difference though, the place has power, a strange magnetic attraction which has succeeded in engraving that image in my mind for good. A simple but potent garbha griha, its something i had always dreamt of... the perfect image of the central shrine of a potent ambiguous cult, with the cult icon silhouetted against the oil lamps, with the air smelling of camphor. The minor snake elements just intrigue me towards the supporting serpent cults. There is a strong undercurrent of potency and ambiguity that surrounds this place, giving a feeling of desperation to want to know and so complicating that it leaves you in a haze.

Kalahasti is a place reaking in corruption like all other south indian temples. The temple priests are lethargic as hell and doing an "archanai" can be the most painful task. They ask you to put money into the brass plate for every move of their finger. Or worse still they dont even go up to the deity to do the arthi, they stop at the door step. If that was not all there are electric lights in all the garbha grihas. These priests are pretty shameless and it can end up in a depressnig experience. So lets forget about that.

Coming back to the inner sanctum sanctorum of Kalahasti, somethings have remained unchanged. When i walked into the mandapa the ambience quite got me. The air is cool (because of the air coolers) and as you are taken through the endless queues (another sign of corruption and population control),you go right round along the path of circum-ambulation. The exterior walls depict dakshinamurti, lingodbhava murty and someone who is a trimurti look alike. the facade is silver plated and when you look inside, its dark and just oil lamps glow in there revealing the potent presence inside. There you see, clearly the presence of the vayu linga, the flames of the oil lamp dancing in a very channelised wind that seems to be present inside the garbha griha and doesnt shake any other flame in there.

The walls are white, rocky and all encompassing, the floor shimmers in the lamp light, the cult icon, unlike other lingas is vertically long and dressed in gold which displays various elements in the dim light. This sits on a yoni pitha, but the lighting inside just melts anyone's heart. I felt drawn towards it, like nothing else mattered, drawn so close that the world looked small... that problems disappeared, they simply didnt matter anymore... they were redundant in front of what stood ahead of me. I could have left my soul back there, never to return, to teach me all that it hid from my naked eyes, to elevate me away from my mundane existance...

It brings me back to Shiva, silent, potent, who waits for you to accept him. Feared for no reason at all. I walked out in a trance, for what had just happened was beyond my imagination. I was told to come here, to receive thirtham, during the hours of the afternoon and sure enough I had driven down from chennai to get there on time. I was told to light the lamp at the gaja stambha and I had already done so, but I was nervous about the thirtham. I had taken the general queue, not paid a penny for the darshan and now I stood at the entrance of the garbha griha. I had walked in promptly only to be stopped by two security guards, so i stepped back. I stared inside and the sight just over whelmed me.

For some strange reason, the guards told me to go back in... right inside (upto the antarala or vestibule that seperates the inner most sanctum sanctorum from the mandapa outside). I couldnt believe my ears. I was told to enter the 500 buck queue for paying nothing at all. I gasped, and walked in savouring every moment I had in there, I couldnt think, I just observed the room and thanked god for granting me this view - Up Close.. real Up Close. When I went closer, the priest gave me the most sort after thirtham, I savoured the mouthful as it trickled down my hand. I felt so small and so blessed, it was like the lord has invited me inside himself. I walked out silent, smiling, shell shocked, shaken, blessed, protected, accepted, enlightened.. leaving my melting heart back in there for good.